The rise of headless CMSs
Designed as a replacement for traditional, single-channel CMSs, headless solutions are a popular addition to the techstack of content-driven companies. A brief history: traditional CMSs managed content for a single channel, but when digital teams decided they wanted to publish content on multiple channels, traditional CMSs couldn't deliver. So, over the years, content management systems have evolved into more agile systems where you work in a more structured way to reuse content for multiple channels.
A headless CMS decouples the content repository or 'body' from its presentation layer, the 'head'. This allows editors and developers to focus on the content and let the CMS take care of its multichannel distribution. A headless CMS delivers content through an API for seamless display on different front-ends. The idea? You're not tied to a single channel or front-end technology, so you can send the content to whatever presentation layer you prefer.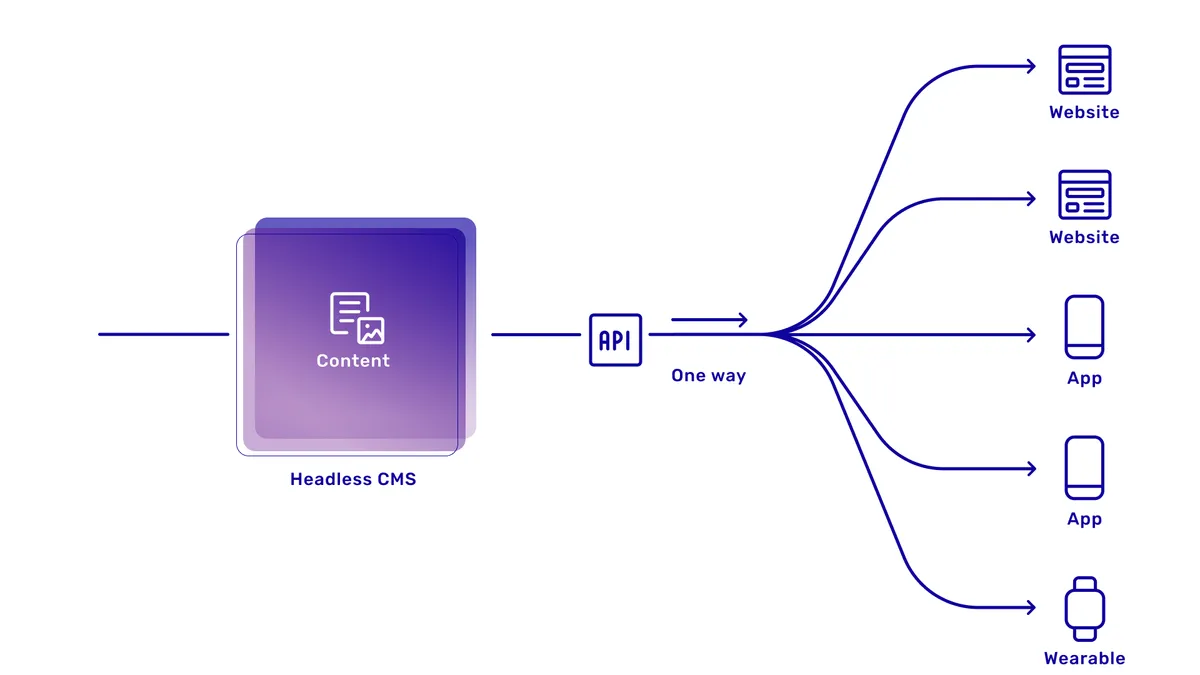 Benefits of a Headless CMS
Headless technology comes with many benefits, such as:
Developer flexibility: Front-end developers can choose whatever framework works for them. Back-end developers can focus on structuring content the right way.
Multichannel publishing: Editors can create, manage and publish content for all channels at once. 
Better security: A headless CMS is decoupled from its presentation layer so there is a smaller area of attack. 
Scalability: Headless architecture is great for delivering content at scale.
Limitations of a headless CMS
Many content teams still use a headless CMS to create, manage and publish their content. However, in this oversaturated world of content, it's getting harder to keep your audience's attention. Over the years, our digital world has transformed more and more into a data-driven landscape where customers seek a personal approach. If you want to adapt to the data-driven era, a 'regular' headless CMS has its limitations.
Adapting to the data-driven era
In the data-driven era, companies have to leverage data to optimize and personalize their digital experiences. Companies have to capture (first-party) data across all touchpoints and use this data to connect their brand to its visitors for a better digital experience. Most digital businesses want to get started with managing content in a data-driven manner, but look up against high costs and complex systems.
To create personalized digital experiences, business owners need external tools like a personalization engine (eg. Frosmo) or an AB-testing tool (eg. Optimizely) to integrate with their tech stack. This is where it starts to get complicated.
The market provides several data-driven tools that can integrate with a headless CMS. These tools can help you build a tech stack with which you can:
Manage your content
Personalize customer experiences
Make data-driven decisions (eg. by AB-testing)
But this means you have more (expensive) vendors and complex systems than is desired. Luckily, there is now a new generation of headless CMSs that offer a solution to this.
The rise of data-driven CMSs
A data-driven CMS is a new category of modern-day CMSs. A data-driven CMS combines the power of content and data to maximize the impact of your content. Here's how it works.
A data driven CMS is a headless CMS that includes data-driven features to improve the customer experience. It captures event data from your front-ends and sends it back to the CMS to feed features like AB-testing, notifications, personalization, recommendations, and content analytics with data. A data-driven CMS makes content management and personalization much easier without being a major expense.
With a data-driven CMS you can leverage the power of data to create exceptional customer experiences with one system.
Benefits of a data-driven CMS
A data-driven CMS contains all the advantages and features that a regular headless CMS has plus it:
Gives access to data-driven features like AB-testing, notifications, recommendations, personalization, and analytics
Makes personalization easy to set up
Shortens the time-to-market for your content platform
Reduces licensing and development costs
Selecting your next CMS
To summarize: A headless CMS is a popular solution for multichannel publishing, but it also has its limitations when you want to get started with data. In this data-driven era, you need to do something extra to deliver exceptional and personalized digital experiences. A data-driven CMS offers the right mix of functionality to cope with the data-driven era within an affordable budget.
Finding the right CMS for your business is not an easy process. It requires extensive research, starting with what functionalities you need to achieve your business goals. It's also wise to decide on a vendor that aligns with your vision and offers the right amount of support. To make this decision a bit easier, we've prepared a headless Headless CMS comparison that shows the functionalities and features of several CMSs on the market, including a data-driven CMS.