Looking back and looking forward
Reflecting on an entire year can bring up a lot of different thoughts, and with that being said there is a lot to look back on. Together with founder Tim Hanssen, CEO Jouko Huismans and CXO Bernard Jan Boekholt, we'll dive into their perspective, thoughts and feelings on 2022, and at the same time look forward to 2023.
Reflecting on an entire year can bring up a lot of different thoughts, there is a lot to look back on. As said by Tim: "It was a challenging and exciting year for Prepr and myself. Our team more than doubled and this added expertise and precise knowledge on all different aspects. This created, for example, more focus and attention on tutorials, starter guides, and documentation. We overcame technical challenges to improve Prepr, making it faster and available globally. Introducing so many new and exciting features gives me a lot of energy towards 2023."
2022 was the year of extension for Prepr. "Our team grew a lot last year. Especially our growth team has expanded significantly with marketers, sales representatives, and a new head of growth. Likewise, we strengthened our product team with technical writers, UX design, and support." thus Jouko Huismans, our CEO. It was not easy expanding our team, especially with the current job market, there are many vacancies and few job seekers. Nevertheless, as Jouko said, "I think we succeeded in finding the right people, with the right experience, who fit within the company culture. Furthermore, we learned a lot during the process, which is never a bad thing." This expansion was necessary to bring Prepr to the next level, while still growing.
We asked Jouko about his thoughts on the technical and personal highlights of the year; "Oh there are so many! Just to highlight one that is very important, but not so visible: we've made big progress with a new infrastructure. It is faster, and a lot more scalable, stable, and compliant with the highest industry standards regarding security. As for my personal highlight, I'm so proud of our team. I'm convinced we'll achieve great things again this year.
Jouko's excitement continues when we talk about what 2023 will bring for Prepr. "This is going to be an exciting year. By the end of Q1 2023, we'll have a big product launch, Personalization Stacks. Personalization has never been so simple for developers to build and for marketers to work with. I think it is going to be a game changer in the era of the modular web."
Bernard Jan Boekholt, our CXO, agreed with Jouko on the success of the extension that Prepr has had this past year, "We've made great progress with the funding we received. We've built a great team and added some exciting new functionalities to Prepr that you will hear a lot about in the coming months. We learned that, rather than outsourcing it's better to invest in good people for our team, it gives better results and is a lot more fun. I'm looking at 2023 with a lot of excitement and full of expectations, my heart beats. I think Prepr is going to the moon!".
Year in numbers
We've made a lot of progress in the past year. Our team has gotten bigger, we released exciting features and started some amazing projects. In addition, we never stopped working on Prepr, but what happened within Prepr this year?
3 billion API Back-end Requests
245.293.431 events recorded
Assets
489.132 assets uploaded
4.550,663 minutes of raw audio
376,797 minutes of raw video
10.936,793 content items created
7.957 unique weekly active backend users
Prepr has improved, and will not stop improving anytime soon. We're very proud of our team's work so far, and we're excited to see what the upcoming year has in store for Prepr.
Most exciting product releases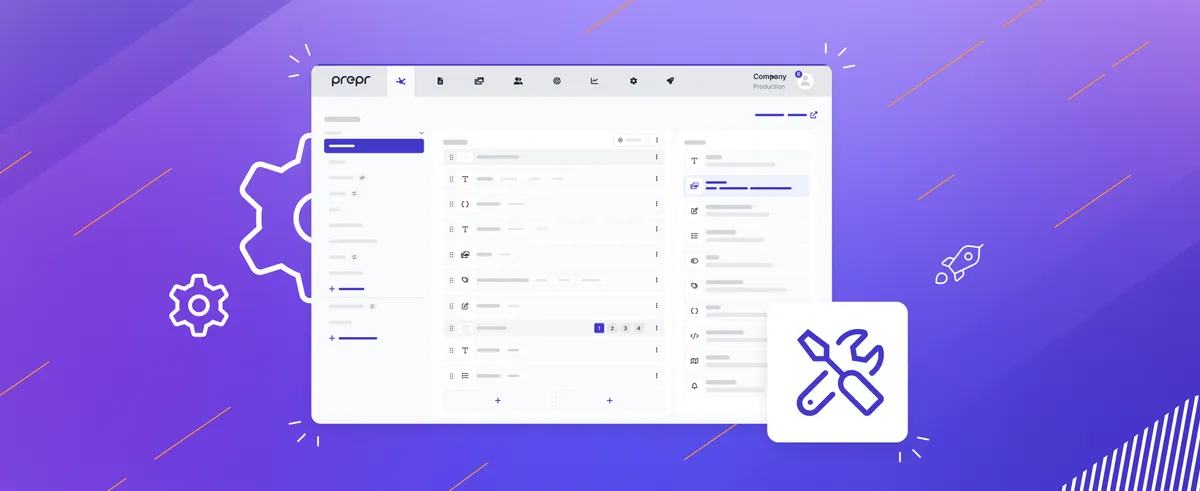 One of our biggest releases this year was the personalization feature that went live. It was a feature that all our developers worked hard on, but not the only significant feature we released this year. We'd like to highlight our (and hopefully your) favorite features we released so far:
At the beginning of 2022, we released an overall performance upgrade. At that time we noticed that several code snippets were slowing things down, and our development team optimized specific code snippets for speed.
After that our biggest release of the year followed: targeted content personalization. This feature allows Prepr users to deliver targeted content to multiple segments that are created in the segment builder. In addition, we released the feature customer merge which enables you to merge duplicated customers, and therefore you can learn more about their behavior.
One thing we'd like to highlight is our new partnership with Mux! Mux Video is an API for professional video and audio streaming, therefore we are raising the bar for video quality and delivery methods. Mux offers various performance improvements that result in a better user experience for both customers and content editors.
In September we released the Schema Editor for all Prepr users. The Schema Editor enables users to define and manage a content structure, which consists of models, components, and their related fields, easily. In the end, the Schema Editor offers a better user experience for schema designers.
Building GraphQL queries is an essential part of integrating Prepr with front end applications, therefore the API Explorer went live. This enables users to generate GraphQL queries instantly which makes it easier to connect your front end.
In November we released an Artificial Intelligence (AI) related feature: AI Text Analysis. This feature processes text in content items and pulls out relevant topics. These topics are then automatically added as metadata.
Roadmap
After a year full of product releases, we still have a lot in store for you. We're never done with developing Prepr ;)
One of the biggest releases this year will be the Stackfield feature. Stackfield will make it easier to personalize the content on your website. How you might ask? It will be much easier to compose pages based on components and personalize them without needing a developer. The biggest difference is that instead of coding the personalization, a developer will only code an extra line in the API which enables editors to personalize all content on the website (if wanted). In addition, a feature for page composing will be released as well. This enables users of Prepr to compose pages, and yet again, without needing a developer.
Furthermore, nestable components, schema versioning, and previews will be added to the list of features that will be released in the upcoming year. Moreover, we want to widen our number of platform integrations. This can be frontend frameworks or integration with third-party tools (E-commerce tools or digital assets management for example).
Guides
Another major thing we've improved this year is our guides. After strengthening our team with two technical writers, our documentation has gone through a lot, but in a good way!
The documentation and guides, now offer end-to-end use. This means that the guides tell the whole story, instead of just parts of it. For example, the documentation about creating a live video stream not only explains how you set it up but also how to use this feature. Additionally, we've introduced AI videos to the documentation about schema editors, live video streams, and the dynamic content editor to do some more visual explaining about the topics. In the future, AI videos will be added to other topics as well.
To go the extra mile we've added more recommendations in our documentation. For example, how many environments should you create? Moreover, all the screenshots and images are simplified and consistent to bring more consistency within the documentation and make sure everything can be found with a few clicks.
Newbies 
Not only did we release some amazing features, but we also welcomed some new customers and partners!
Customers & partnerships 
This year, we warmly welcomed agency Bikkelhart to the Prepr Partner Program and expanded our relationship with our other implementation partners, including Greenberry and Levarne.
One of the cases we did this year with Greenberry was for the Dutch government. As most of you know, the war in Ukraine has caused gas prices to rise because Russia is one of the largest gas suppliers. With gas bills becoming more expensive, the Dutch government wanted to make its citizens aware of this and provide tips and launched a campaign called "Zet ook de knop om" which educates Dutch citizens about the crisis and gives tips to save costs. The website for this campaign, along with Greenberry's work, runs on Prepr CMS.
Technology partners
In addition to implementation partners, the number of technology partners has continued to grow. Apart from upgrading our current technology partners React, Nuxt.js & Next.js, we also added a new front end integration to our technology stack, Angular. Angular loads data into the front end, which is why this Javascript framework is suitable for large, complex, and dynamic applications.
We also partnered with Mux Video, for professional video and audio streaming. Audio and video files are automatically uploaded to Mux within Prepr, and from there you can start streaming with just a few API calls. Mux uses the HLS (HTTP Live Streaming) streaming protocol to deliver video content with adaptive bitrate and resolution. Therefore, it helps prevent buffering when playing video by adaptively lowering the video quality when needed.
Knowledge sharing 
In a world with an overflow of information, separating the wheat from the chaff is hard. In our Prepr talks episodes, we talked with different companies, with various fields of knowledge, to see what their view was on the future of content management. We talked with Booking.com, Terberg, Bannerwise, and Disguise.
On to 2023
2022, we enjoyed you but we are ready for 2023! There is a lot more that you can expect from us… For example, we'll release a new feature called Stack but more on that in the first quarter of 2023.
In addition, we've made some New Year's resolutions for ourselves as well… We're planning to release the feature Stackfield in the first quarter of 2023 together with the page components. As said before, this makes it even easier to personalize content and there is no need for a developer each time you want to personalize.
Do you have good content management intentions for 2023, just like us? Contact us for a virtual cup of coffee and a quick demo and we'll talk through it.