What is the Schema Editor?
The Schema Editor is a tool in Prepr used to define and manage a content structure. You may have noticed this new schema button at the top of the Prepr page. This icon takes you directly to the Schema Editor where you can create and manage models and components.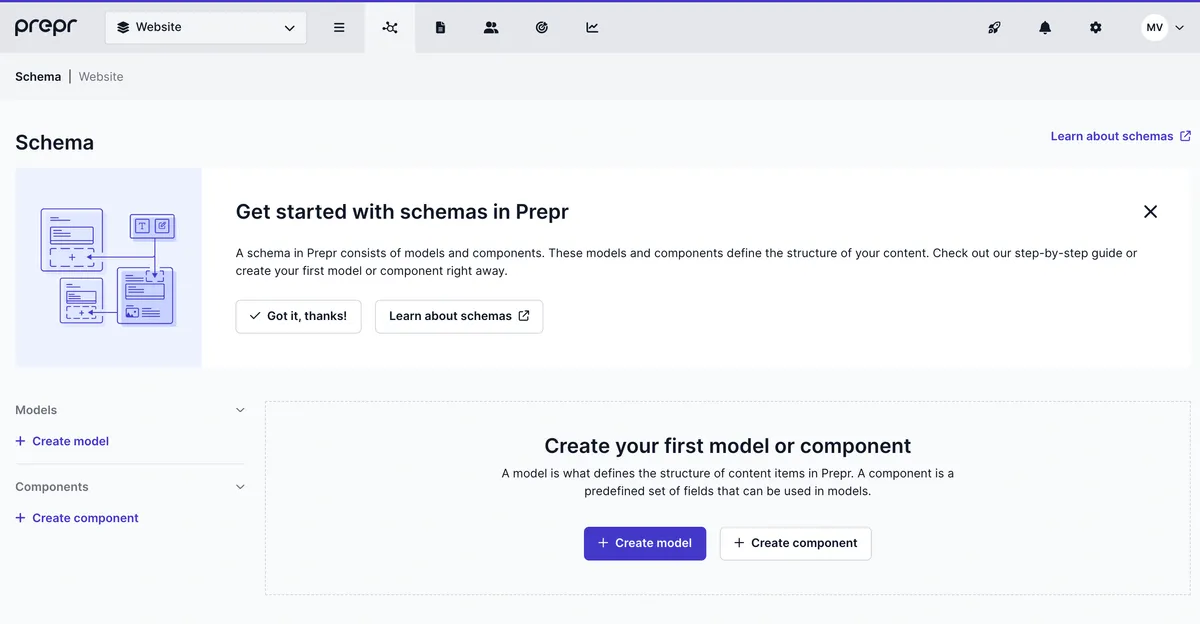 When you create a model, a wizard assists you with choosing the following options:
Start from scratch 

Multi-item model - This is the most common type of model that is created. 
Single-item model - This type is used when content editors only need to create once content item for a model, for example, for app configuration settings such as the app name or company info. 

Use a template 

This option gives the user a chance to choose a predefined structure of a common CMS pattern, such as a Page or a Blog. The user can then customise this template to their needs.
For more information on how to create models in Prepr, check out the Models Guide.
User Experience improvements
Unlike the previous solution, the Schema Editor offers a much better user experience for schema designers. It does this by having:
A single-view of all models, components and field types.

A step-by-step guide to create a model.

Drag and drop functionality to add and rearrange fields.

The option to create a model using a predefined template instead of from scratch.
Learn more
We hope that you enjoy the benefits of using the Schema editor. If you have any questions or feedback, please reach out to us. To learn more about managing a content structure in Prepr, check out our guide.