Ever noticed duplicate customers in your Prepr environment? Now there's a way to fix that! We're thrilled to tell you more.
Improve data quality
Prepr's Customer Data Management feature is a great way to learn about user behavior and it's the starting point for creating personalized experiences. Maintaining high data quality is critical to make this work. Due to a combination of data import methods you may encounter duplicate contacts at times. This can lead to inaccurate data analysis, incorrect personalization and reduced data quality. To fix this we recommend merging duplicate customers. That's why we developed the new Customer Merge feature. Learn how to use it below.
How it works 
Merging customers in Prepr is easy and can be done from the Prepr interface. Just follow these simple steps:
1. Sign in to Prepr and click 'Engage' at the top. You should now see the Customer list.
2. Find both of the customer profiles you would like to merge. Select the customer with the most accurate data set.
In case both customer profiles contain values for fields that require a single value, the value of the customer profile from where you are starting the merge operation is kept. For example, if both customer profiles contain a date of birth, Prepr keeps the date of birth value from the contact you select from the customers list.
Fields that can only contain a single value are:
- Name
- Gender
- Date of birth
- Any custom fields
All other fields (such as events, email addresses or phone numbers) can contain multiple values. The data from those fields will be combined during the merge operation.
3. From the customer screen, click 'Merge'.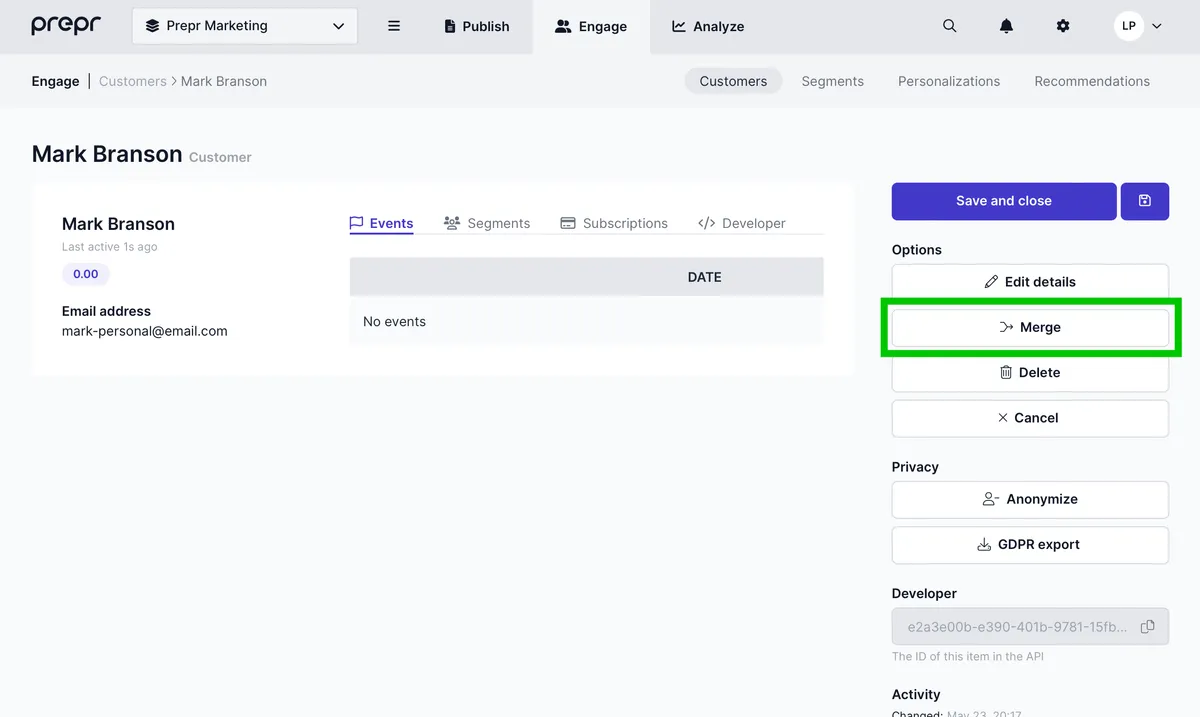 4. In the popup, use the search bar to find the second customer profile. You can search for all fields of a customer profile, such as name or email address. Select the correct customer from the list and click 'Merge'.
Keep in mind merge operations in Prepr cannot be undone and data may be lost if you are merging the wrong set of customer profiles.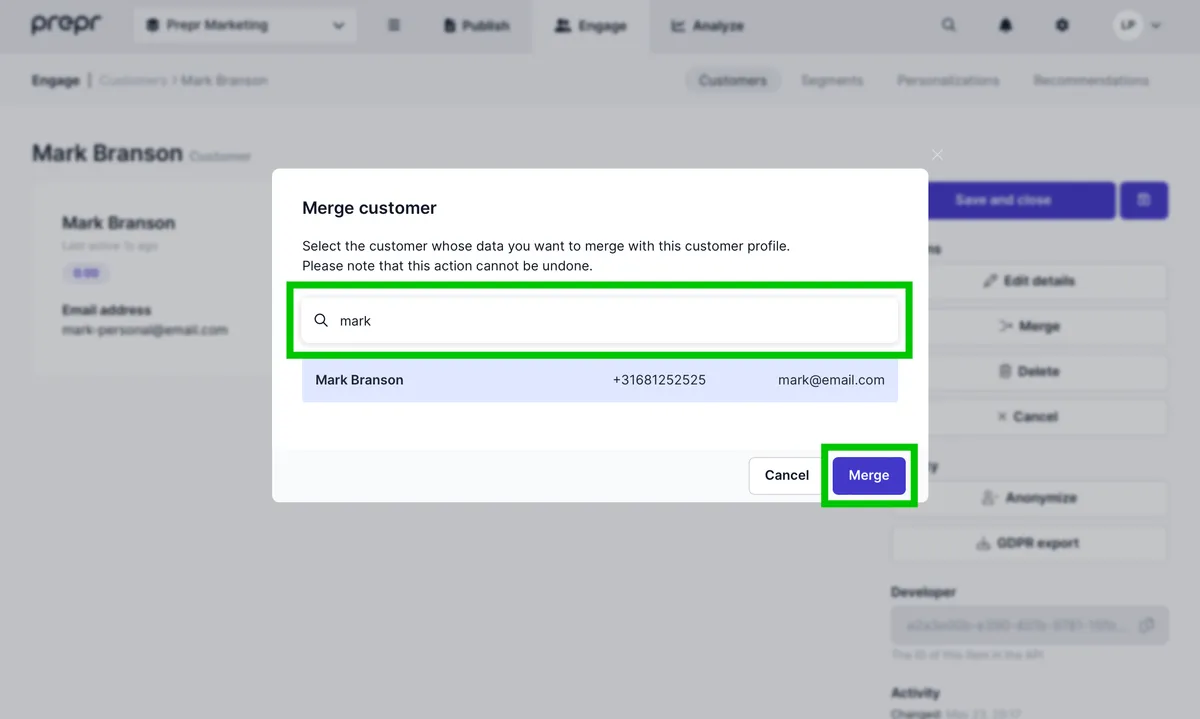 5. That's it! You have successfully merged two customer profiles into one.
You should now see the customer screen again. A confirmation of the merge operation is shown at the bottom of the screen. In this example, you will notice that the values for the email address field have been combined. As a result, both are now shown in the customer screen.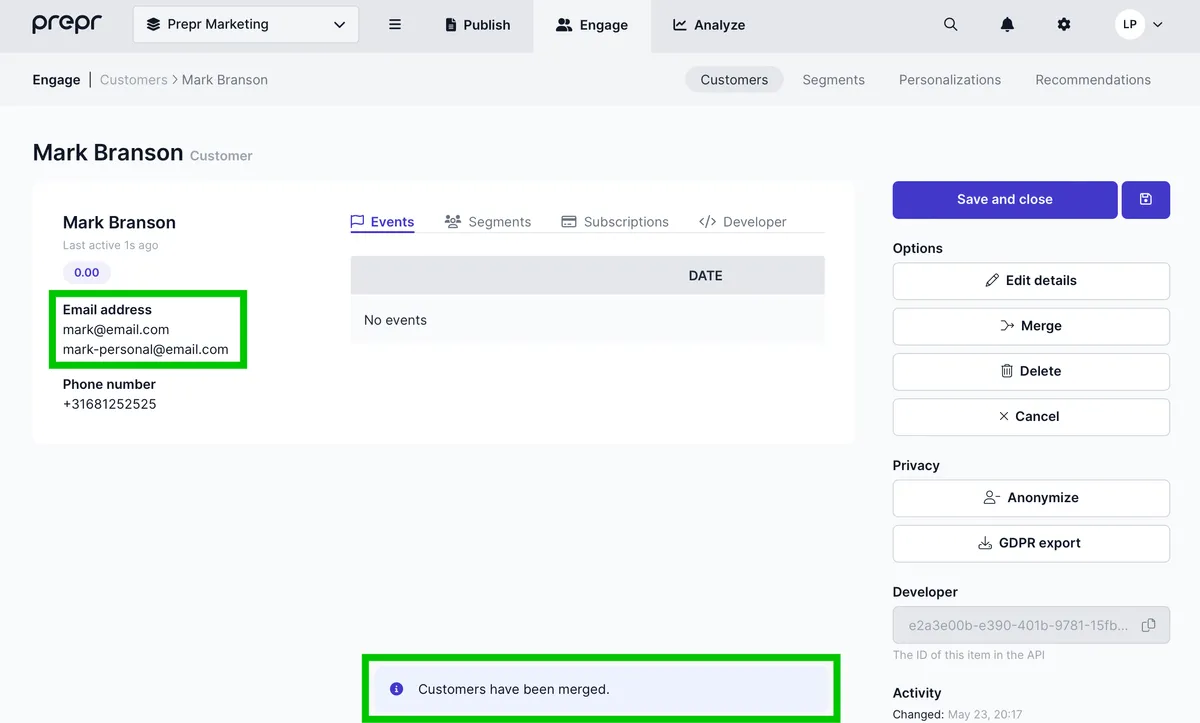 Learn more
We hope this new feature will help you improve the quality of your customer data.
To learn more about managing customers and their data, check out our guide on managing customers. If you have any questions or feedback, please reach out to us.