Data helps you stay ahead
You can write fantastic stories or produce the most amazing videos. But when you don't zoom in on your audience's interests, you'll never know if they like it – or not. That's why it's equally as important to capture data as it is to create compelling content. Data shows what your audience likes, what content is successful, and unlocks the insights to improve your content on the go. Only by using data-driven insights in your content management process, you're able to connect with your audience on a more personal level.

At Prepr, we always say that great content helps you get on top of your game, but data helps you stay ahead. With the increasing number of videos and articles released every day, beating the competition has become increasingly hard. Therefore, we motivate content teams to adopt a more data-driven workflow, something that we call 'full-cycle content management'. This method treats content management as a continuous cycle, representing the three main stages of content management: publish, personalize, and analyze.
It not only focuses on publishing content but also highlights the importance of capturing and analyzing data. By adopting this routine, you make sure you can maximize the impact of your content. And more impact means that more visitors are to find your content online, visitors spend more time with your content and come back more often.
It's time for a data-driven CMS
When it comes to maximizing impact, traditional and headless CMSs no longer suffice. While these solutions allow you to publish and sometimes even optimize your content, they lack the means to gather relevant insights and miss out on opportunities to connect. Sure, you can combine your headless CMS with other tools to meet your data needs, such as:

- A CRM or identity management tool to keep gathered data up to date
- An SEO tool to optimize for search engine rankings
- An A/B-testing tool to optimize headlines and images
- A notification tool to send personalized notifications to frequent visitors
- A recommendation engine to trigger the audience with related content.

As you can see, it's an extensive list. That's fine, but when these solutions remain unlinked, the entire content management process becomes dreadful, costly, and unclear.

If you want to utilize data and maximize the impact you generate with your content, a data-driven CMS comes in handy. This is a content management system that embraces content management as the continuous cycle that it is. Its core is a headless CMS, used to create and publish content on a multitude of channels. On top of that, a data-driven CMS offers actionable tools that allow you to utilize big data.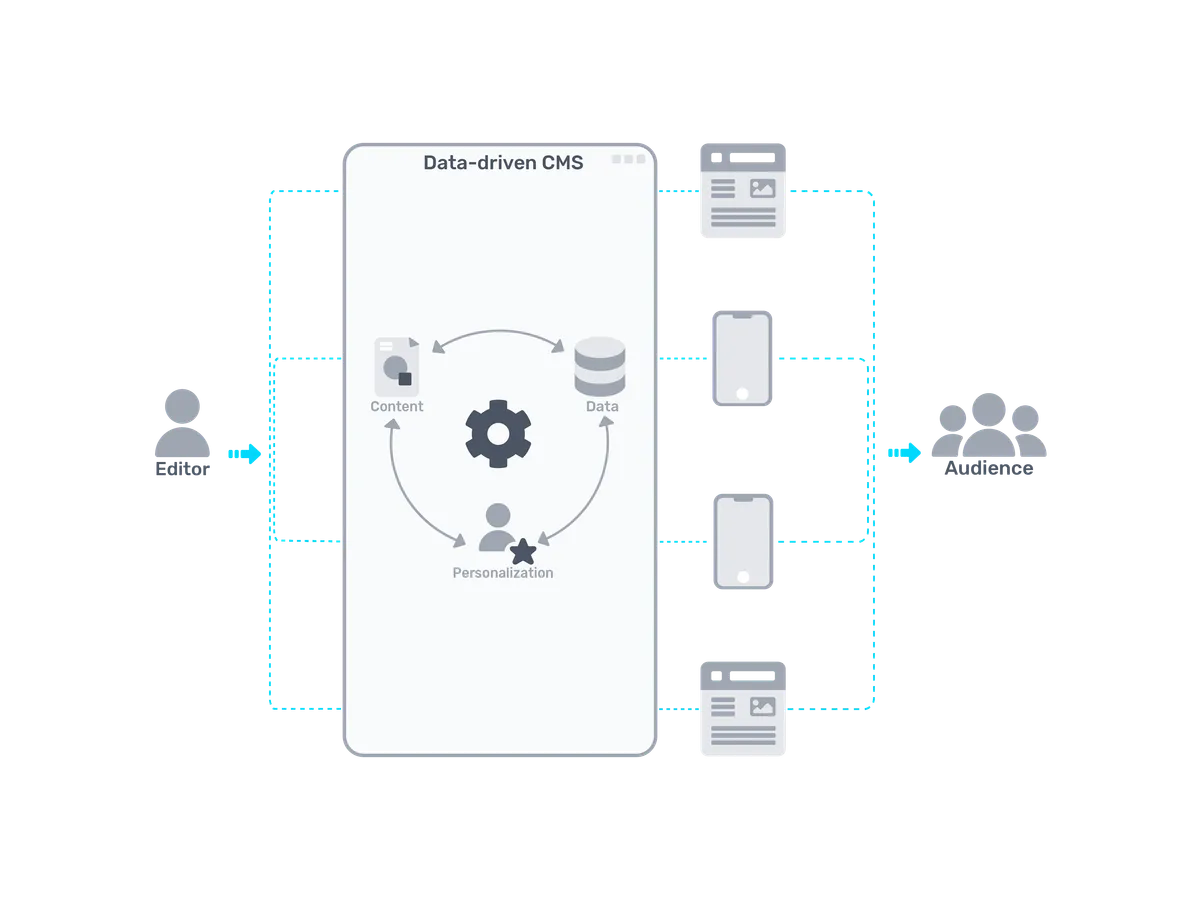 So, what does full-cycle content management look like when you have a data-driven CMS?
We think the process should be as follows:
Create, check, publish
All content management begins with creating your content. When you're happy with your setup and your content is good to go, it's almost time to publish. But before you do, there are two more steps that you shouldn't forget. To make sure your content is easily found, it's vital to increase its reach. For this, you need to enable search engine optimization: SEO. Always make sure whether you've optimized your content for search engines before you publish it. A few simple checks ensure you use the correct keywords and enough elements, and meta-descriptions are neither too short nor too long.

Additionally, you can run an A/B-test to see which titles and images result in the best click-through rates. These are the elements that either make or break your content. Besides, it also offers valuable insights into what your audience finds attractive.

So our advice: create your content, check SEO, and run an A/B-test. When you have everything set in place, publish!
Personalize content to drive engagement
After publishing your content, it is time to drive up the engagement. Here, the first step is to inform your followers that you have new content available. This way, you ensure your audience comes back often. How do you inform them? By sending personalized notifications, that is!

When your audience finds its way to your content, you have to offer them an opportunity to interact. Allow them to like, share, comment, or save the content for later. These are all micro-conversions that increase engagement in the long run. Also, this provides valuable data about the content preferences of your audience.

An essential micro-conversion is when a visitor subscribes or follows specific content, for example, a theme, topic, or brand. A visitor then allows you to inform them when new content becomes available – a very valuable step when building a strong connection with your audience.

Finally, try to motivate your audience to view more content by presenting relevant recommendations. This way, you extend the time your audience spends on your site, and you increase page views. Make sure to recommend content that is comparable and that matches their preferences. There's nothing more off-putting than irrelevant content.
Analyze results
To optimize your content experiences altogether, you need to analyze results regularly. How does your content perform? What works well, and what can be improved? Take the time to answer these questions, as this is essential in building stronger relationships with your audience.

Start your analysis by measuring the results. Zoom in on the engagement rates of your content to get an accurate picture. Which content gets a lot of views? What content gets shared? And to which topics do visitors subscribe? You've already collected this data when you personalized the content experience for your audience. Now, it comes in handy to innovate and improve your content management process as a whole.

The next step is to report the uncovered data. Present your results to all stakeholders by offering them simple reports. Make sure to align the outcomes with the organization's goals and show how your content contributes to realizing those goals.

Finally, it's time for action. Based on your thorough analysis, decide how you want to improve the content experience of your visitors. You can do this by focusing on successful content or by enhancing the experience. For example, by adding recommendations or personalizing the homepage. It's up to you!
Combine the power of content and data
By selecting a data-driven CMS, you can set full-cycle content management in motion. As a result, audiences will spend more time with published content and come back more often. This leads to more conversions and higher revenue on your end. That's why we've developed Prepr. We're the world's first data-driven headless CMS: a seamless solution that combines the power of both content and data.

In contrast to traditional CMSs, all needed instruments are integrated into one platform. This makes Prepr the only CMS that allows you to publish content, engage your audience, and analyze results. As a result, you reduce development and operational costs, you have the opportunity to boost innovation, and - most importantly - you maximize impact. And that's what content nowadays is all about.