Trend #1: Content as a business driver
While not every business generates revenue purely from digital content, it sure is a helping hand. Delivering the right content to your audience can even help grow and increase conversion rates up to 600%. Currently, most organizations share content to convince their audience to buy products or use their services — actually, roughly 24% plan to increase their content marketing spending in B2B and B2C.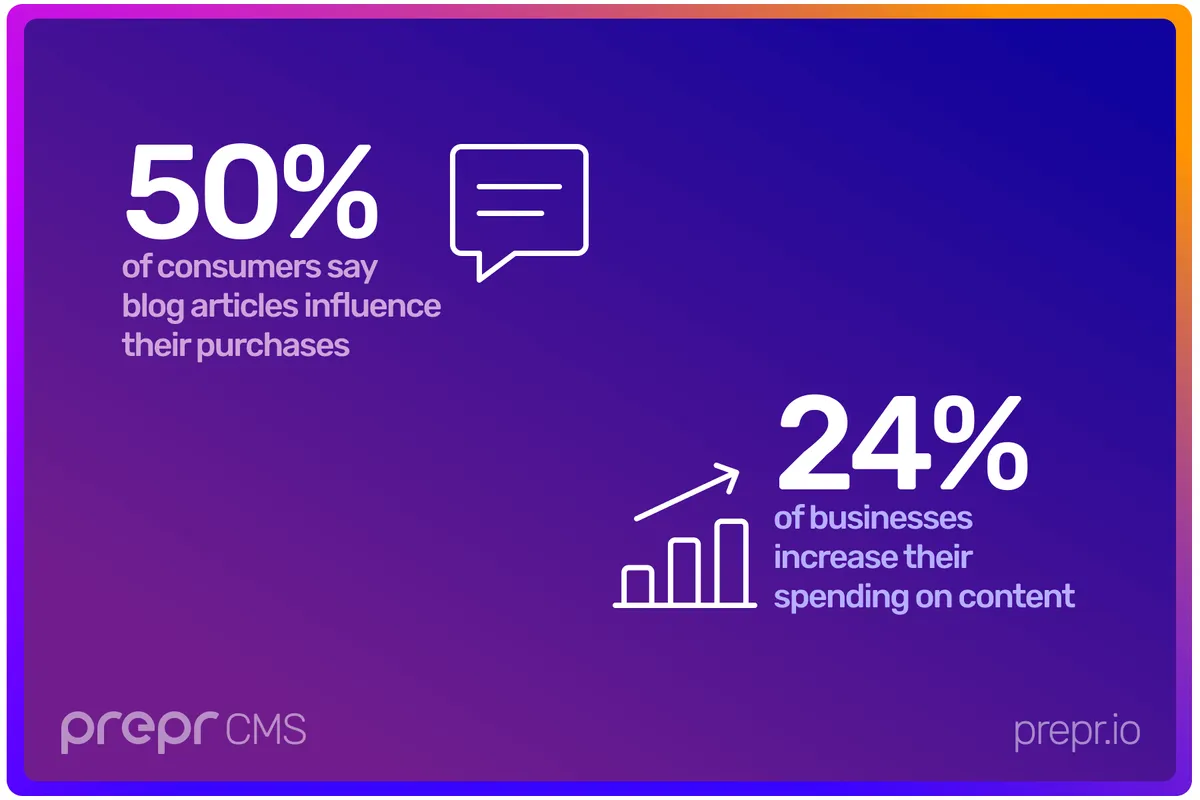 But when creating conversion-driven content, businesses need to keep in mind that it's not the content itself that ultimately generates revenue. It's the engagement with the actual content that counts, as customers that engage with shared content are more likely to become a loyal audience. Over 50% of consumers state that reading blogs influences whether they make a purchase or not, and 61% of consumers even say that they are more likely to buy from a company that provides custom content.
The demand for qualitative digital content keeps increasing, and implementing content as a business driver remains a high priority for businesses around the globe. As a result, the already large number of content management solutions available keeps growing, and Chiefmartec's Marketing Technology Landscape saw a year-on-year rise of 5,6% in 2020. With the rapid digital transformation going on these days, who knows what 2021 will bring?
Trend #2: Personalized content to drive conversions
As mentioned earlier, engagement is crucial when generating revenue with content. Consumers are continuously targeted with all kinds of information, from banner ads to persuasive emails, social media advertisements, and online commercials. It's only natural to tune out and become 'blind' to all generic messaging and information that's not personally relevant.
This is where personalization comes in. Personalization means that businesses interact with their audience based on their online behavior, preferences, and actions. They tap into uncovered data to present content so that it feels tailored to their audience. 94% of senior-level executives believe delivering personalization is critical or important to reaching customers.
Do consumers think personalizing the content experience is creepy? Not at all. In fact, it's key to improve results, as 75% of consumers prefer to buy from a brand that knows their name and purchase history. According to Forbes, delivering personalized web experiences even results in double-digit returns in marketing performance and response.
It's safe to say that personalization is booming, and solutions designed to personalize content experiences are popping up like mushrooms. Yet, while the value of personalization is good for trillions in revenue, Gartner anticipates that by 2025, businesses are likely to give up on achieving personalization due to a lack of results and data management challenges. Already 27% of marketers believe data is the key obstacle to personalization — revealing their weaknesses in data collection, integration, and protection. Something worth solving!
Trend #3: Agile solutions to overcome complexity fatigue
Most businesses use several systems to publish, manage and personalize their content, including a Content Management System (CMS), data management platform, and personalization engine. This is often a complex and expensive setup, and it's not a coincidence that an increasing number of businesses are unhappy with their current tech stack. Compared to companies that have achieved low levels of technology complexity, high-complexity companies suffer a 58% increase in costs.
Overlapping, poorly integrated systems and incomplete customer data are day-to-day challenges that ultimately lead to complexity fatigue. Even a best-of-breed approach isn't solving this issue, as using better systems still means they function as siloed environments, remaining unlinked.
Even those organizations that feel their stack is effective agree that they struggle to utilize the full capabilities of their solutions. Often, features remain unused and fail to generate business value while absorbing significant parts of the martech budget. The solution is simple: use fewer systems. This results in more simplicity, more efficiency, and better performance.
It's why an increasing number of organizations opt for agile solutions that can function as an integrated part of their workflow. It's also why we see a rise in the number of headless CMSs. A headless CMS disconnects the frontend from the backend and can therefore be easily integrated into any tech stack. Headless CMSs are agile solutions that can ultimately reduce the development costs needed to manage content successfully.
What do these trends mean for your next CMS?
Almost all industries currently use a CMS to publish, manage and optimize their content. The better their tech stack, the faster they can respond to market changes and the easier it becomes to stay ahead of the competition. The trends described in this article show you that you should keep three things in mind when selecting a new CMS for your business:
Your CMS should support your goal of generating revenue, as content is now a valuable business driver.
Your CMS should allow you to easily personalize content, as personalization leads to more conversions.
You need a CMS that is easily integrated into your current tech stack, as integrated solutions can ultimately help simplify the oh-so complex technology stack.
Keeping these requirements in mind, there are several solutions to choose from, including a traditional CMS, a headless CMS, a digital experience platform, and a data-driven CMS.
Here comes the hard part: deciding which CMS suits your business best. When we plot all requirements to the quadrant below, we see that a data-driven CMS ticks all the boxes. Let's take a closer look at why this is the case.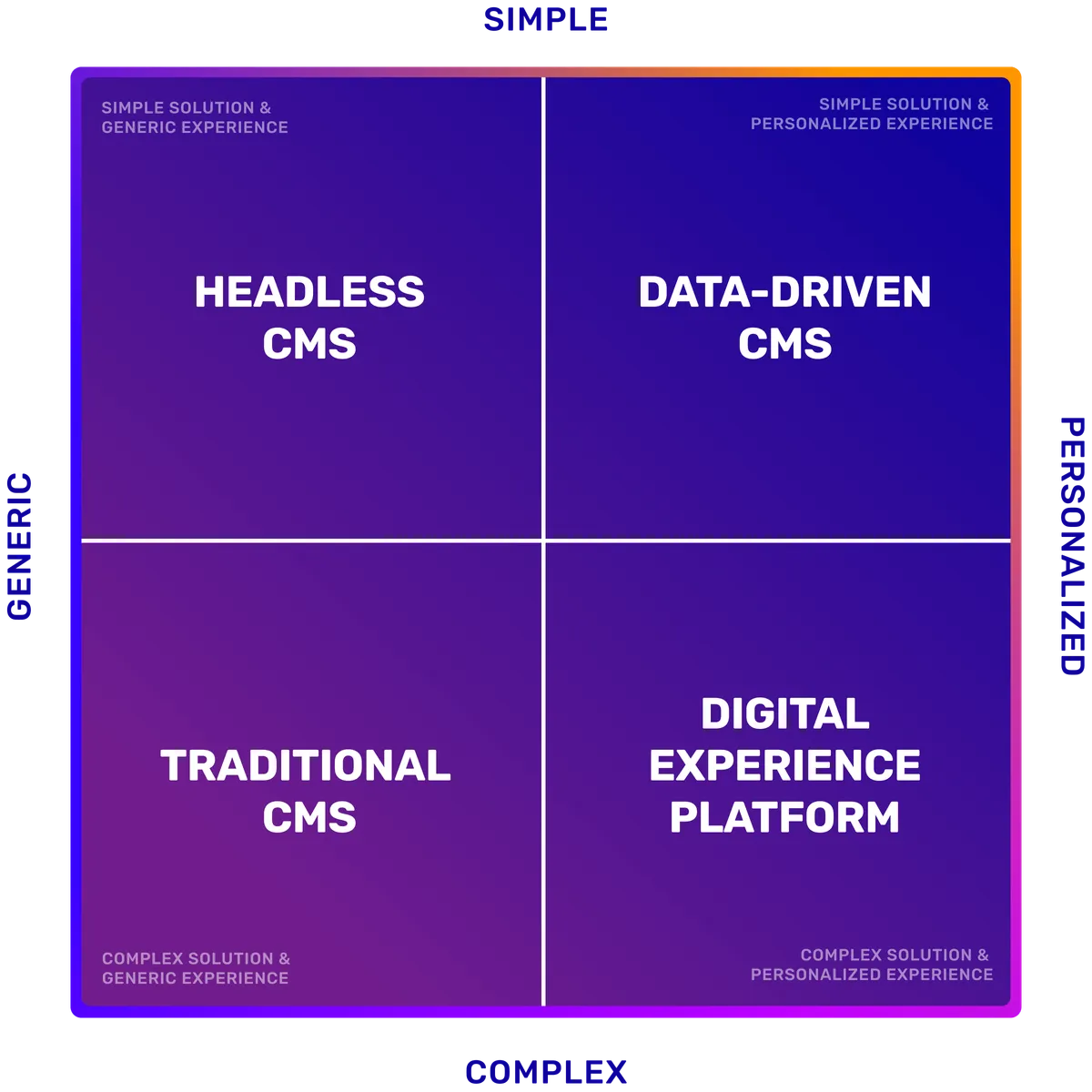 On the bottom left, a traditional CMS is mentioned. This solution is quite complex and doesn't easily integrate with other solutions that you prefer to use. Yet, it can be valuable for businesses that maintain only one frontend, such as a single website or brand. Those who manage multiple frontends are better off with a headless CMS. The agility of working headless means you can easily separate front from backend, allowing you to publish content on all kinds of platforms easily. Yet, a headless CMS often delivers generic content experiences — something you want to avoid if you are working at a conversion-driven company.

On the bottom right of the quadrant, the DXPs rule. Digital Experience Platforms offer a highly personalized content experience and offer all needed solutions rolled into one suite. While this is a complete solution, it's also quite complex to implement into your workflow. Its extensiveness can sometimes also result in underutilization and waste from unused features. As DXPs are also quite expensive, chances are you're overspending on functionalities you never use.

When looking for an agile and easy-to-use CMS that also offers the ability to personalize customer experiences, a data-driven CMS is your best option. A data-driven CMS integrates the strongest characteristics of a headless CMS (flexibility and simplicity) and combines them with the strongest abilities of a personalization engine. It combines the power of content and data and therefore supports you in delivering personalized, hyper-targeted, digital content at scale, without becoming overly complex.