As an editor, you may encounter a common situation. You want to modify an article that is already live on the website. However, when you make and save your changes, the modifications immediately become visible to visitors. This is not ideal, as you want the changes to be visible only after all modifications have been completed, reviewed, and approved. Thankfully, this is now possible. Prepr introduces drafts for published content items, which allows editors to make changes to already published content items without affecting the published version.
Until now, when changes were made to a published content item, they would be immediately visible instead of going through the regular workflow of "To do," "In progress," "Review," and "Done." This meant that changes were published immediately upon saving, without giving editors and collaborators the option to review the item properly.

With drafts for published items, users now have full control over modifying and republishing previously published content items. They can explicitly publish or schedule the item when it is ready. This feature was highly requested for Prepr, and its benefits are evident. You can now confidently take charge of your content and publish it, without the fear of making accidental mistakes.
When editing a previously published content item, the publication status will automatically change to "Unpublished changes". In the Prepr interface, you will see two versions of your content item: the published version and the version with unpublished changes. You can edit and review the latest version with changes as many times as needed. Once it's ready for publication, you can immediately publish it or schedule it for future publication.
The image below shows the different publication statuses and their respective meanings: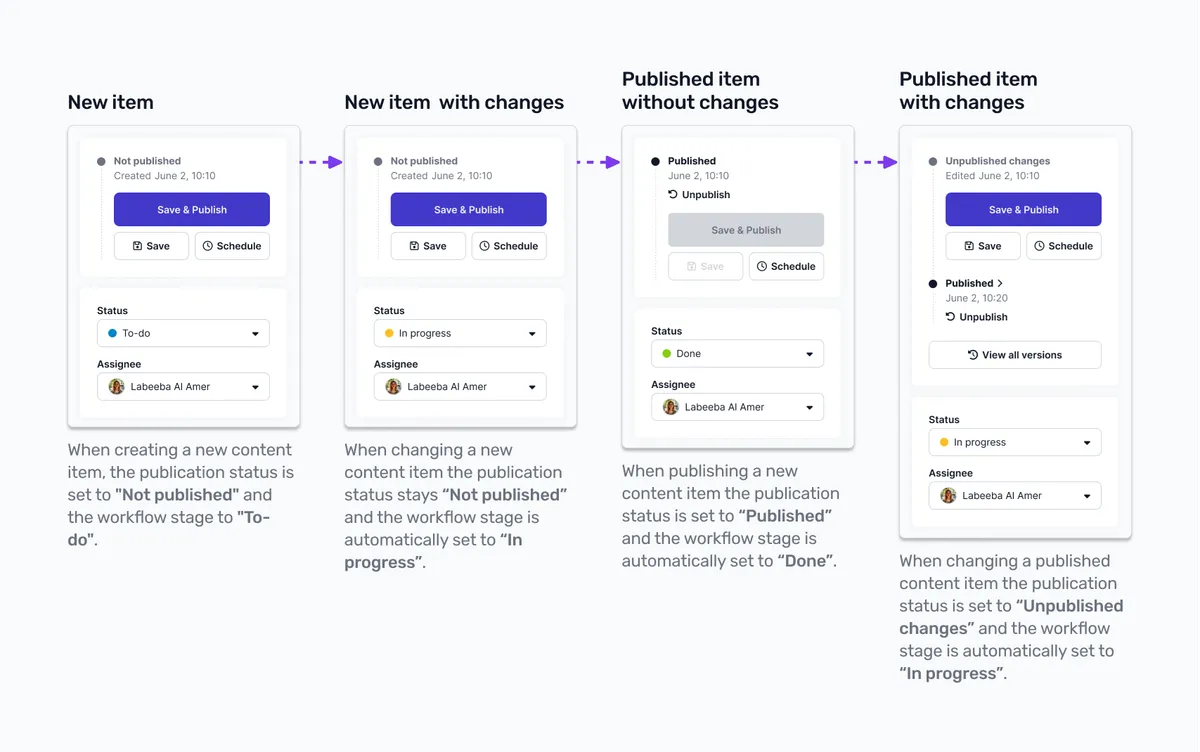 One change introduced with the addition of drafts for published content items is the separation of workflow stages and publication statuses. Now, a content item has a workflow stage that indicates the progress made in its creation.
In addition, each item has a separate publication status indicating whether it is published, unpublished, or has unpublished changes. This helps avoid confusion that may arise when a task marked as "Done" is also published. This was one of the issues with the previous setup.
Here is a list of all the stages and statuses and their meanings:
To-do → Work on this item hasn't started yet.
In progress → Work on this item is ongoing.
Review → This item needs to be reviewed.
Done → Ready. Final. Def. 🍾
Unpublished → This is the first version of a content item, and there is no published version yet.
Published → This is the published version of the item and there have been no changes made yet. There are one or more previously published items. Once an item is published, its workflow status is automatically set to "Done".
Unpublished changes → This is the latest version of the item, containing changes made since the last publication. There are one or more previously published versions. When an item is changed, its workflow status is automatically set to "In-progress".
The introduction of drafts for published items does not change the process of scheduling content items. To schedule an item instead of publishing it right away, simply click the "Schedule" button and choose the exact publication time. You can also specify when an item should be unpublished.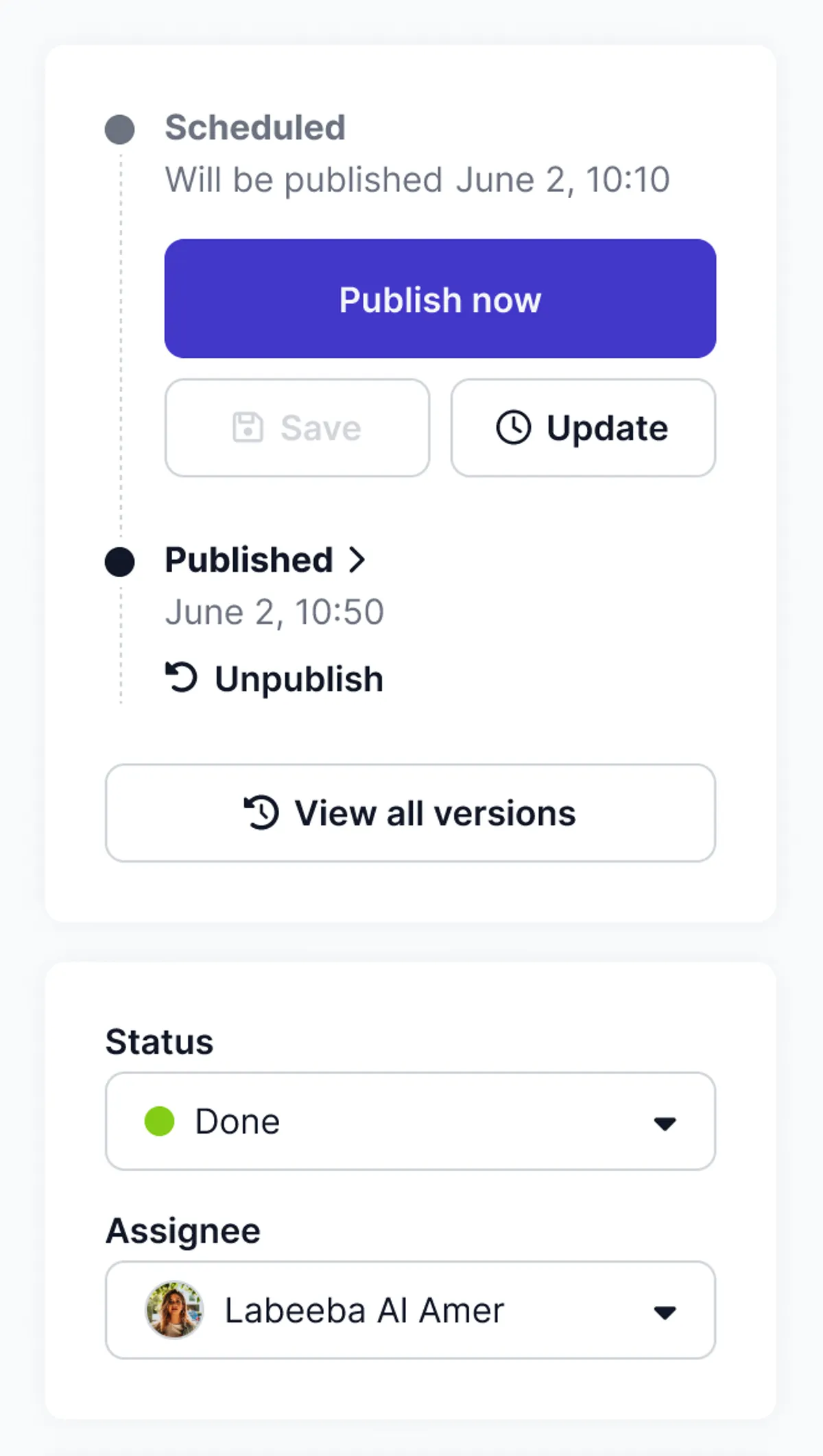 With the introduction of separate workflow stages and publication statuses, we have made improvements to the content item list to reflect these changes.
Here are the most important changes:
The workflow stage and assignee information are now combined and displayed before the item title. Hovering over the workflow status provides an overview of the statuses of content items for other languages.
The publication status is now displayed at the end of the row. Hovering over the publication status displays the exact publication time for the item. In the case of multiple languages, the publication statuses and times for these languages are also displayed.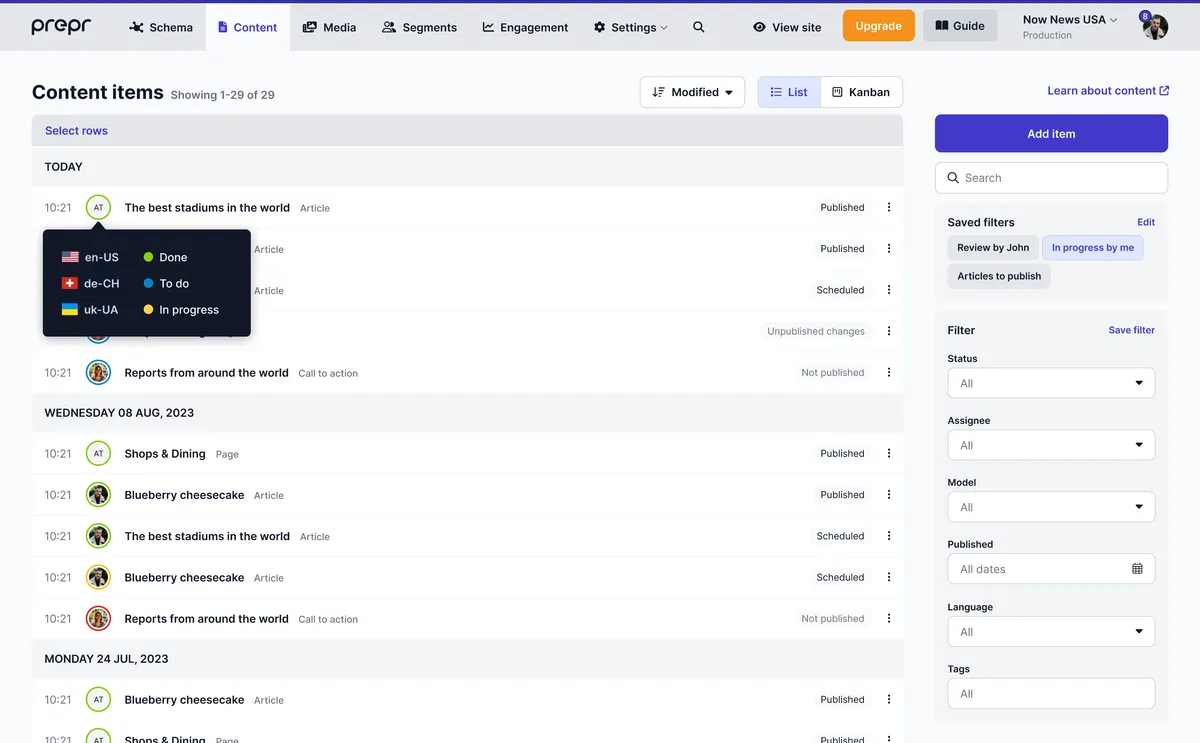 With the improvements made to the publication workflow, the content item list, and the kanban board, managing and publishing content items becomes easier. Plus, these enhancements provide you with more control over the visibility of changes and when they are made visible.
When designing this feature, we went through a lot of iterations with the design team and content teams working with Prepr to ensure its seamless functionality. However, we are always open to suggestions and feedback. If you have any ideas or opinions, please contact us at [email protected]. We are happy to hear from you.