What is hybrid working?
Hybrid working is an approach that allows employees to combine remote working with in-office working. In our workspace employees have the freedom to choose where and when they work, dividing their time between working from home and in the office. This approach is not a a fit for every company, it is best suited for those whose work is online, and doesn't always require them to be on site. Prepr is a headless CMS, so we provide Software as a Service (SaaS). This means most of the work can be done remotely, still we find it important to choose a hybrid workspace. Let's dive into our top 5 benefits of hybrid working.
1. Increased employee productivity
Contrary to the belief, working from home has proven to increase productivity. When employees are given the freedom to choose when and how they work, they get the flexibility to work when they're most productive. Sometimes this means working outside of the 9 am – 5 pm hours.
A study from the Stanford University showed that remote workers were 22% more productive than their co-workers working in-office. A survey done by ConnectSolutions found that 77% of the people working from home or remotely showed an increased productivity: 30% doing more work in less time and 24% doing more work in the same period.
Not only given the choice of when and how much they work increases productivity, also a greater ability to focus with fewer distractions, saved commuting time and higher levels of motivation.
Gartner's 2020 employee survey revealed that organizations where employees work standard 40-hour work weeks in the office, have a high performers rate of 36% of their employees. When organizations shifted to a more flexible working environment, 55% of those employees became high performers.
Halyna Kopach - Technical Writer at Prepr - "The hybrid mode is a good compromise. It gives enough space for inward reflection and allows staying involved in company culture and community. And it works perfectly for me: focus tasks are for home, and important face-to-face meetings (and no less important "watercooler conversations" 😉) are at the office."
2. Increased happiness and better work-life balance amongst employees
Study shows that hybrid working increases the overall wellbeing of employees and creates a better work-life balance. Cisco's study "Employees are ready for hybrid work, are you?" showed that 82% of employees thought the flexibility to work from anywhere has made them happier and 78% said working remotely has improved a variety of aspects of their wellbeing.
Having the freedom to work from home, having more flexible work schedules and reduced commuting times all contributed to the increased wellbeing. Specifically saving commuting time was shown as a top reason for the increase. Employees said they reinvest this extra time to spend with family and friends, strengthening those relationships. In addition, the Cisco study showed that 71% exercises more when they work remotely. Furthermore, having the possibility to run a necessary errand during work hours decreases stress of otherwise having this errand on their minds.
Moreover, working from home showed a decrease in stress and employees found that the combination of working at home and working at the office was more relaxing and felt that the working environment was less pressurized.
For those employees who enjoy traveling, having the option to bring their work on their trips can positively impact their overall happiness. They won't have to use their holiday days for each trip, one will be able to think of work and vacation together! This all leads to increased employee happiness and therefore they're more likely to stay working for the company.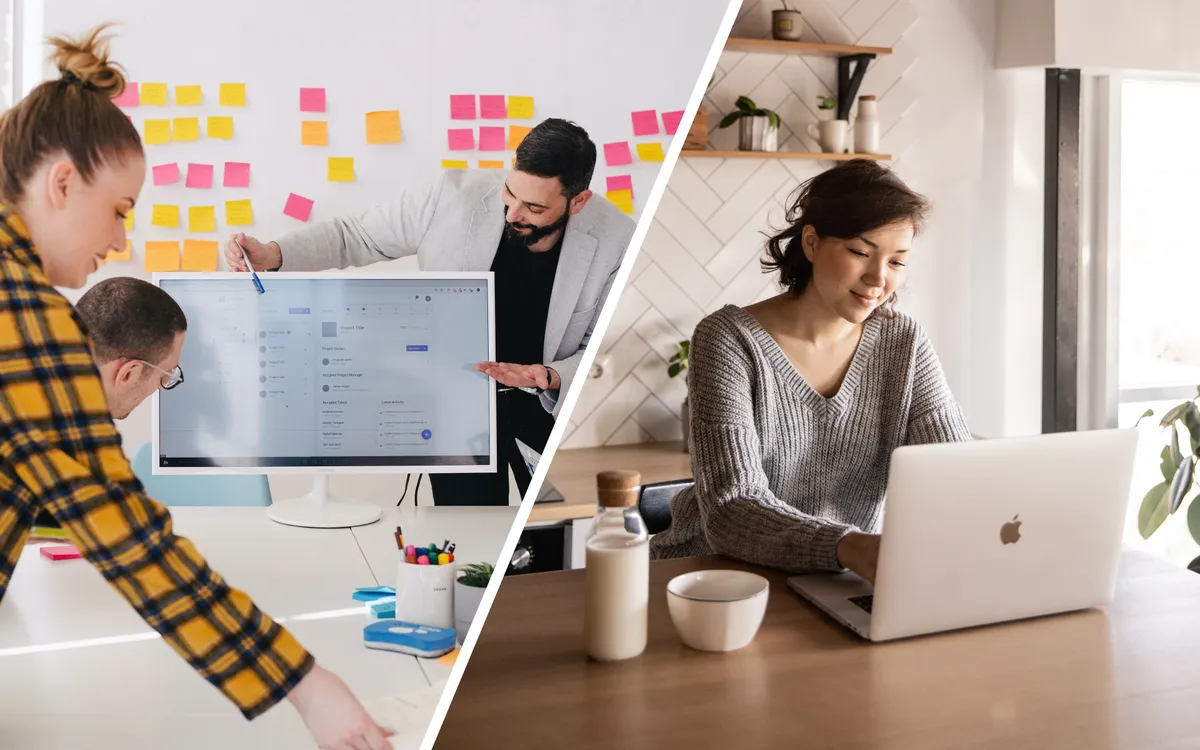 3. Contribute to a better environment
Having most of your employees work partially from home and saving on commute time doesn't only contribute to their satisfaction, it reduces our corporate impact on the climate. Research done by Nature stated that daily global C02 emissions decreased by 19% during the Covid-19 pandemic, almost half of which were a result from reduced ground transportation. As an example, Vodafone Turkey shifted to a hybrid workspace and that equated into planting 300 trees per year.
Reduced business travel and commutes due to hybrid work in combination with the office heating and electricity will help support a more sustainable future. At Prepr, we also support our employees to commute to the office by public transportation.
Tom Swinkels - Developer at Prepr - "The biggest benefit for me is the saved commute time. When I work from home, I save around 2-3 hours. But when I do travel, I take public transportation and try to work during the commute. It has also created great flexibility for me as I am doing construction work at my house. Since we started using the virtual workspace tool Gather you even experience some office feeling when working from home, so that's a big plus."
4. The office for teamwork and communication
With the employees given the freedom to do individual work at home, the office becomes a space for teamwork, communication, collaboration, inspiration and social connection. Over the last couple of years, we have seen that a lot of the communication and work can be done fully remote, and have been quite successful doing it. However, it is clear that some types of work are simply better done in person. While the financial team may operate perfectly throughout online communication, the marketing team relies heavily on in person communication and collaboration. Many meetings like team brainstorming sessions and other collaborative work are far less productive through video communication.
Besides it being clear that work that requires collaborative work is done better in person, there still needs to be space at the office for individual work. You still need to be able to support those employees who not only prefer to work in the office, but also those who might not have an effective workstation at home, due to, for example children or roommates or any other number of reasons why they would prefer working in the office.
Therefore, it's also important to properly equip your team with the technology that they need that is required to work from home. Hybrid employees require a communication app, video conferencing platform and a way for shared files/documents. For example, at Prepr we use Telegram for a lot of our communication. We also recently started exploring the tool Gather Town, a virtual workspace, as an option to create a remote co-workspace where you can still get together like in a real office.
Kevin Quaedvlieg - Customer Support at Prepr - "When I travel to and from work it takes me 4+ hours, this feels like wasting energy and it is too long to travel to work every day. Therefore, it is great to have the possibility to work a lot from home. I haven't fully found the balance yet because I do miss the social aspect of working in the office with colleagues. What makes it better is using Gather, it is making the contact aspect faster and better. But I do think the office is still the best place for communication and contact with coworkers."
5. Hybrid working creates a wider hiring pool
The new generation requires more freedom and flexibility, this is fundamentally changing how people work and how companies approach work habits. In addition, it is affecting the type of work people look for. Offering hybrid working jobs can be a crucial element in accessing a larger pool of potential applicants. Additionally, companies and organizations that use a hybrid approach can attract more talented, skilled and diverse employees. You can access a pool of candidates that do not reside near the office, or those who travel consistently. With greater flexibility, more candidates are able to adapt to the specific workplace strategy. All this combined gives your company or organization a competitive edge.
Curious if hybrid working is a fit for you?
Working in a hybrid workspace has many benefits, for organizations and for employees. Overall, people are happier, more concentrated and have higher performances. Want to see if our hybrid workspace is a fit for you? Take a look at our job openings!